Warranty and Post-Warranty Service
Regular service inspections are critical to ensure trouble-free operation of installed equipment and the data centre itself. Data centres operate on a continuous basis and the equipment installed in the data centre must be 100% reliable.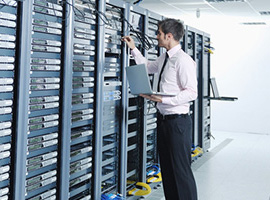 Our trained and fully certified technicians use regular service inspections to largely avoid equipment downtime and to ensure the required level of continuous operations.
A data centre must be cared for as if it was a living organism and even the smallest indication of a collapse must be resolved immediately with maximum professionalism and care. This is the exact reason why EDT GROUP provides its customers with warranty and post-warranty service and maintains emergency stores of spare parts.
EDT GROUP Service Programs